Patient Reviews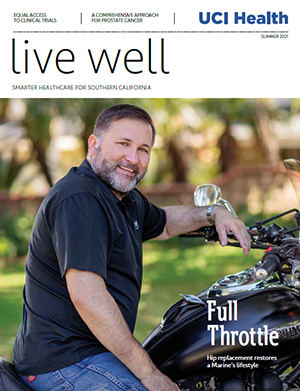 With his left hip and knee aching and all his recreational activities curtailed, Scott Shuster made one of the best choices in his life. He sought a second opinion for possible medical treatment. That decision led the retired Marine Corps officer to reject a questionable knee surgery for a hip replacement that has turned his life around.
"I wasn't happy with my consultation with the first orthopedic surgeon, so I went back to my primary care doctor and asked for an alternative," says Shuster, 55. "That's how we came up with the idea to get a second opinion at UCI Medical Center. It's been a very positive experience."
Corinne Shuster says her husband is no longer hunched over and shuffling when he walks. "He's like a different person. He can climb the stairs. He can get down on the floor to play with his grandkids. And he can sleep without pain."
Patients seeking help for joint pain from UCI Health experts can expect a thorough, unbiased evaluation and recommendations that include state-of-the-art technologies and treatments, says Dr. Steven Yang, the UCI Health surgeon who fixed Shuster's painful left hip in December.
Dr. Yang and his staff and the UCI Medical Center, above and beyond. But Dr. Yang is above and beyond. Thank you so much. Appreciate everything. Can't...

~ Anonymous ~

Dr Yang, professional treatment was above and beyond excellent…..this was a GREAT experience for me and my family. Thank-you very much Dr Steven Yan...

~ Anonymous ~

I consider myself lucky to have found Dr. Yang. He is everything I could have wished in a doctor for when I had a painful ailment. Dr. Hand immediat...

~ Anonymous ~
Write a review
If you're interested in submitting a testimonial for Steven Yang, M.D., Please use the form below to do so.
Thanks!
Fields marked (*) are required