Media
Facing the possibility of a hip or knee replacement? Dr. Steven Yang, UCI Health Department of Orthopedic Surgery, will present the latest on what to expect from joint replacement surgery.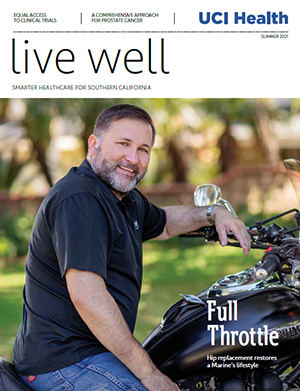 With his left hip and knee aching and all his recreational activities curtailed, Scott Shuster made one of the best choices in his life. He sought a second opinion for possible medical treatment. That decision led the retired Marine Corps officer to reject a questionable knee surgery for a hip replacement that has turned his life around.
"I wasn't happy with my consultation with the first orthopedic surgeon, so I went back to my primary care doctor and asked for an alternative," says Shuster, 55. "That's how we came up with the idea to get a second opinion at UCI Medical Center. It's been a very positive experience."
Corinne Shuster says her husband is no longer hunched over and shuffling when he walks. "He's like a different person. He can climb the stairs. He can get down on the floor to play with his grandkids. And he can sleep without pain."
Patients seeking help for joint pain from UCI Health experts can expect a thorough, unbiased evaluation and recommendations that include state-of-the-art technologies and treatments, says Dr. Steven Yang, the UCI Health surgeon who fixed Shuster's painful left hip in December.
Patients with serious, highly painful or complex medical conditions are wise to seek second opinions at academic medical centers, where the latest technologies and treatments are tested and taught, says Yang, an assistant professor of hip and knee arthroplasty at the UCI School of Medicine.
"Sometimes the answer isn't joint replacement," he says. "We do what is best for the patient. We have the resources to offer the best, most comprehensive care. Our team-based approach, with specialists who can address the full range of surgical issues, is what truly sets us apart."
During his consultation with Yang, Shuster said the first surgeon told him that he was too young for a hip replacement. Yang diplomatically explained that hip replacement technology and surgical techniques have evolved significantly in recent years. No longer is it limited to people over age 60.